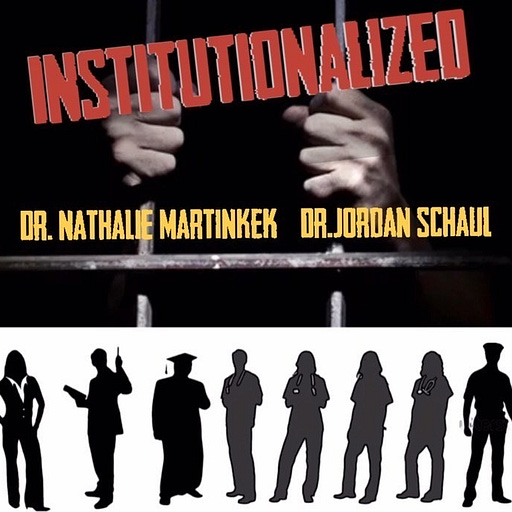 May 17 • 59M
Institutionalized: A podcast about the cons of organizational socialization
with Dr. Nathalie Martinek & Dr. Jordan Schaul
Everything you want to know about power, control and the invisible forces that drive & disrupt narcissistic behaviour in human relationships.
Welcome to Institutionalized - a podcast and ongoing conversation between Dr. Jordan Schaul and myself that is hosted on Fireside Chat App. We discuss the forces that have contributed to the burnout epidemic, workplace trauma, chronic low morale that are now manifesting as the Great Resignation.
We dissect the acculturation process we all undergo into organizations and institutions to embody the ideal attributes that will enable us to survive and supposedly thrive, and the impact this process has on wellbeing that cannot be fixed or be made resilient in these institutional contexts.
Dr. Jordan Schaul describes why we need to have conversations about institutionalization and our need to scrutinize organizational cultures and its practices that prevent each of us from truly flourishing in these environments.
We will also be describing narcissistic leaders, narcissistic colleagues and narcissistic institutions and the ideal conditions for bullies to thrive.
We bring our own experiences of institutionalization AND de-institutionalizing. We also share our learning from helping people across multiple industries to navigate the symptoms of institutionalization, increasing tolerance to uncertainty and the unknown, the conflicts that occur when one is getting ready to leave their organisation or career path, and the recovery process after departure.
In this introductory episode we touch on:
What we mean by institutionalization

How it happens

The psychosocial and mental health impacts

Transition

Recovery
We will also speak with public figures who turned their backs on success in their industry in search of fulfillment, without the burnout.
We're learning about the art and science of podcasting as we go. You can help us by hitting the 'leave a comment' button to share feedback about the content and questions that you'd like us to discuss in our future conversations.
Thank you for listening. We hope you enjoyed the conversation and look out for more!
Nathalie Martinek, PhD and Jordan Schaul, PhD
The Narcissism Hacker and The Accidental Science Writer